The anticipation of being a new designer with your first New York Fashion Week show has got to be overwhelming and so electrifying! I had a chance to speak with designer and British native, Chantell Walters about her  first NY show.  She was  ecstatic to have  her debut solo show during NYFW.  Previously she participated in Harlem Row FW so you may have seen her there. " I'm excited, nervous but so happy!" For this collection her inspiration draws from the 50's with a mix of a sporty edge of modernism. "I looked a lot to the 1950's and mixed it up with futuristics and I've added some sportswear in there . I create unusual silhouettes" she stated .She was looking forward to showing her edgy new collection as we were to seeing it. Ms. Walters is known for signature tailoring with a futuristic flair.(chantellwalters.co.uk)
Backstage I  met with one of the Dark and Lovely glam squad stylists Nedjetti Harvey to find out more on the hair looks for Chantell's NYFW show.Hair looks for this  show  focused on natural hair and textured  updos and Pompadors, Nedjetti Harvey  is of NJ's top natural hair stylist and took a moment to tell me how to get   Dark n Lovely shine on this style . As you'll see she's High energy and camera ready with Dark and Lovely Au Naturale Anti-Shringage Sheen Sealing Nectar Spray.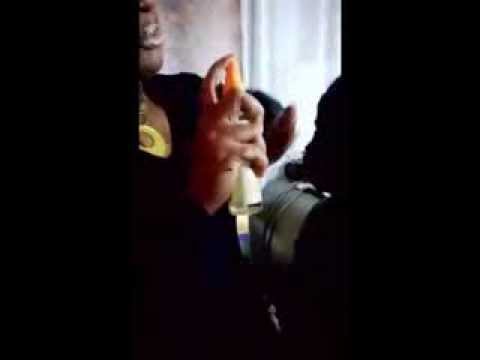 Shot with NOKIA Lumia 1520
Here you see the "Pomp " on a natural hairstyle finished with Dark and Lovely Au Naturel Sheen sealing necter spray($9.99).
The make up at this show included a bold heavy eye look by LAMIK eco -chic  cosmetics
The look :Feminine Goth
Bold purple lips
Clean face
Overdone lips
We spoke with make up artist Kim Roxie about the inspiration for this look. Using a purple lips coming out in August 2014 to create a sexy dark lip. "We used a powder liner by LAMIK called Dazzle Black to create a thick heavy cat eye but over done,  when it's overdone it's done right!" No need for lashes since the liner is so bold.  The strong eye was tailored to each girls face so it's slightly different on each girl. Kim's is predicting lips will be  very dark in various shades of purples for Fall 2014 . But as spring is coming up I had to asked her about the summer lip trend . "For summer it's all about the orange red lips !" Kim excitedly stated ."LAMIK has a shade  called Capture coming out this month that is amazing" Be on the look out for it!
All photos and video were taken with  NOKIA Lumia 1520.
Thanks to Windowsphone for sponsoring my coverage of # NYFW this season